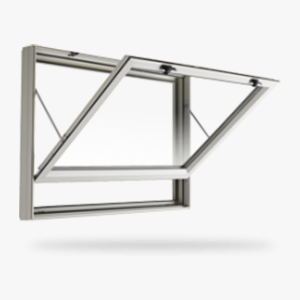 Window Doctor offers first class vinyl replacement basement hopper windows for your home. Basement hopper windows, as the name suggests, are ideal for basement rooms. Typically, the hinge is set at the bottom, allowing the window to open from the top for ventilation.
With our basement hopper windows, the sash swings inward to allow for easy opening and closing and letting fresh air into the home. Our fusion welded frames keep the window strong and weather tight, and keep air, water, and noise from infiltrating your home. Our basement hopper windows are available in double paned glass units for protection in all of our Indiana climate extremes.
With our energy-efficient basement hopper windows, you'll have windows that are strong, easy to clean, and sealed enough to help reduce your heating and air conditioning bills. You can choose from a variety of sizes and styles; and from our three types of glass: Low-E glass, Energy Guard Low-E, and our exclusive Thermo-Flect glass. We'll be happy to help you choose a style and fit that's perfect for your home.
Reach out to Window Doctor today and ask us about basement hopper windows, and how we can add strong, efficient and security sealed vinyl replacement windows in your home!
Request a Price Today