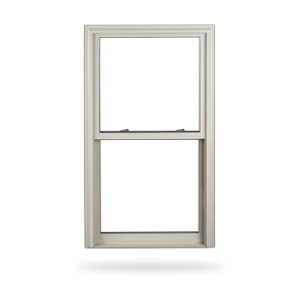 Double hung windows are among the most popular choices in window styles, largely due to their versatility. They can be installed in most any type of home, whether the home is classic or modern, and they can be used along with most any other window style for an appealing look in your home.
Double hung windows consist of two sashes and can be opened from the top or the bottom, which makes them easy to tilt and clean, and flexible for the homeowner. Our energy efficient double hung vinyl windows offer the same look of wooden windows, while offering all of the durability and efficiency of vinyl windows. They can also be ideal for an area with smaller window space.
Window Doctor's double hung vinyl windows feature fusion welded corners to ensure a tight and strong seal. They also feature interlocking sashes with weather-stripping and reinforcement overlap, which prevents air and water from getting through the windows. All of our frames and sashes are insulated and reinforced. Choose from our wide variety of colors and grilles for windows that suit your home perfectly!
Our double hung windows are available in three types of energy efficient glass: Low-E glass, Energy Guard Low-E, and our own exclusive Thermo-Flect glass. We'll be happy to explain to you the advantages of each one.
Let Window Doctor install your new double hung replacement windows that both look great and keep your energy bills down. You'll love the look of your new double hung windows and how they enhance the beauty and value of your home!
Request a Price Today On Double Hung Replacement Windows